This is the fourth in a series of articles about Waymo. The first can be found here, the  second here and the third here.
Pop quiz… We know Waymo has always used lidar but how many cameras are there on their Generation 5 sensor suite?

Keep reading for the answer…
Elon Musk has a long held and much publicised view about lidars. But the juxtaposition is Waymo's relationship with cameras that is equally complex.
Waymos have always used lidar extensively and they are now building their own. The fourth generation of Waymo that has been driving around Chandler uses five lidar.
They also feature four radar and one 270 degree camera (made up of five cameras).
This to me feels like a comprehensive sensor suite and it is "only" software standing in the way of full autonomy (…given that a sensor does not get damaged; but it is impervious to bird poop thanks to its ingenious defence mechanisms)


Contrast this with Teslas that do not use lidar. Elon Musk, the Tesla CEO, controversially said of lidar;
"They are all going to dump lidar. That's my prediction. Mark my words."
"...and in cars it's frigging stupid. It's expensive and unnecessary. "
"...once you solve vision, it's worthless"
A couple other passing swipes at Waymo and others can be seen here especially about the reliance on high definition maps. Teslas have a single radar, ultrasonic sensors and 8 cameras.
After a few years of testing in Chandler on their generation 4 hardware, Waymo has revealed their brand new "Generation 5" sensor suite.
It features five lidar (up from four), six radar and 29 cameras!  (yes… 29)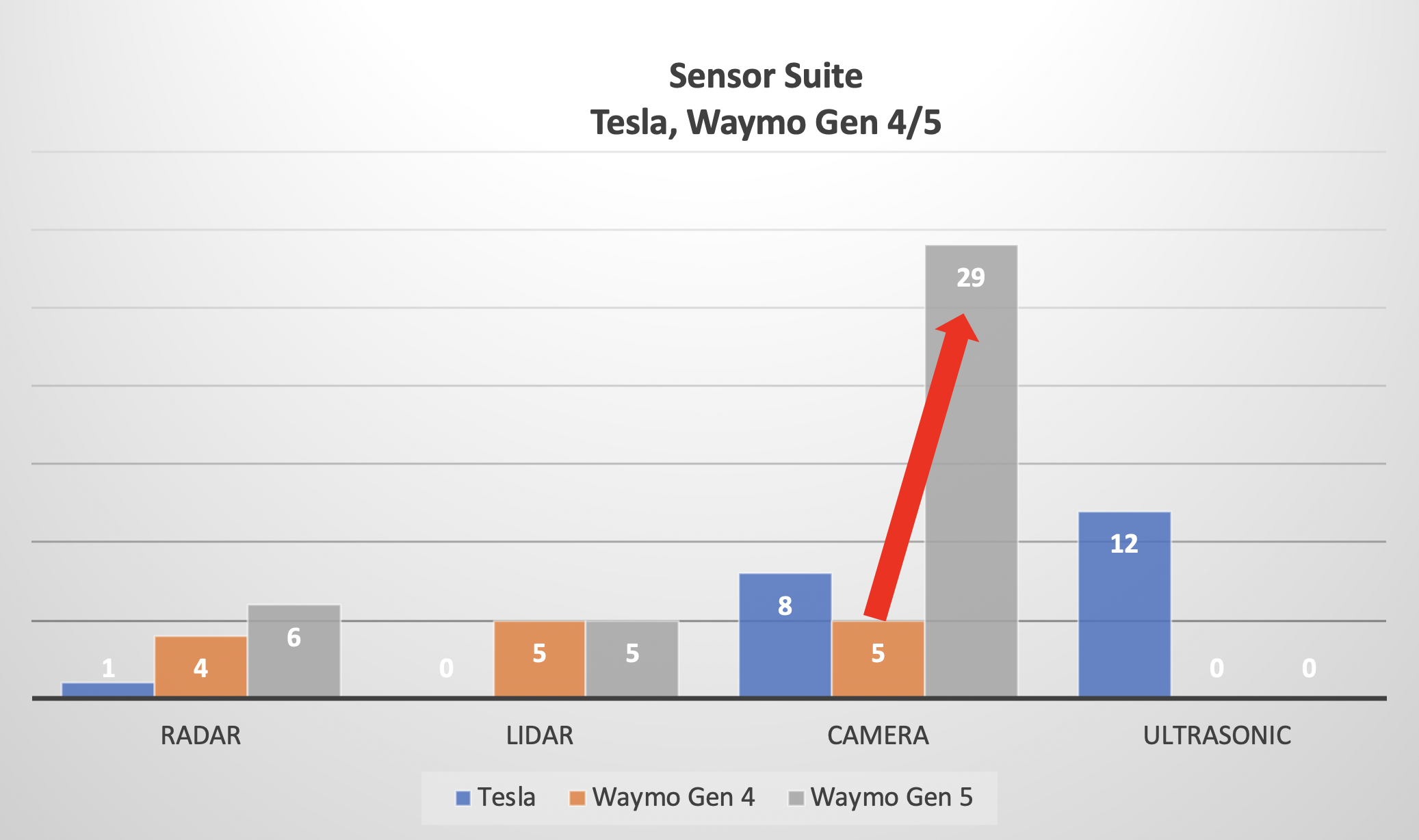 It's gone from one rooftop mounted virtual camera (made up of five physical cameras) to 29! It's difficult to imagine where you could even place 29 cameras on a car. The vision system can see stop signs greater than 500m away which seems entirely superfluous and totally over engineered.


Some questions…
Have they been listening to Elon?
What made them add so many cameras?
Does a strategy of 'just add more sensors' really work?
Is this a sign of success or desperation?
Or is this just sensible hardware redundancy?
What type of compute must they have buried in that trunk?
Is the camera becoming the "primary" sensor?
What will generation 6 look like?
To Waymo's credit they have been learning their lessons and continuously improving. They own the hardware and the cars that the hardware is running on and can upgrade with impunity. From a technology point of view, they appear to have a great strategy and architecture that allows them to test, learn, pivot and repeat.
But as we know, it's not always about the best technology.
Who guessed 29?  Add comments to LinkedIn.
Next article, we will dig into their business model…