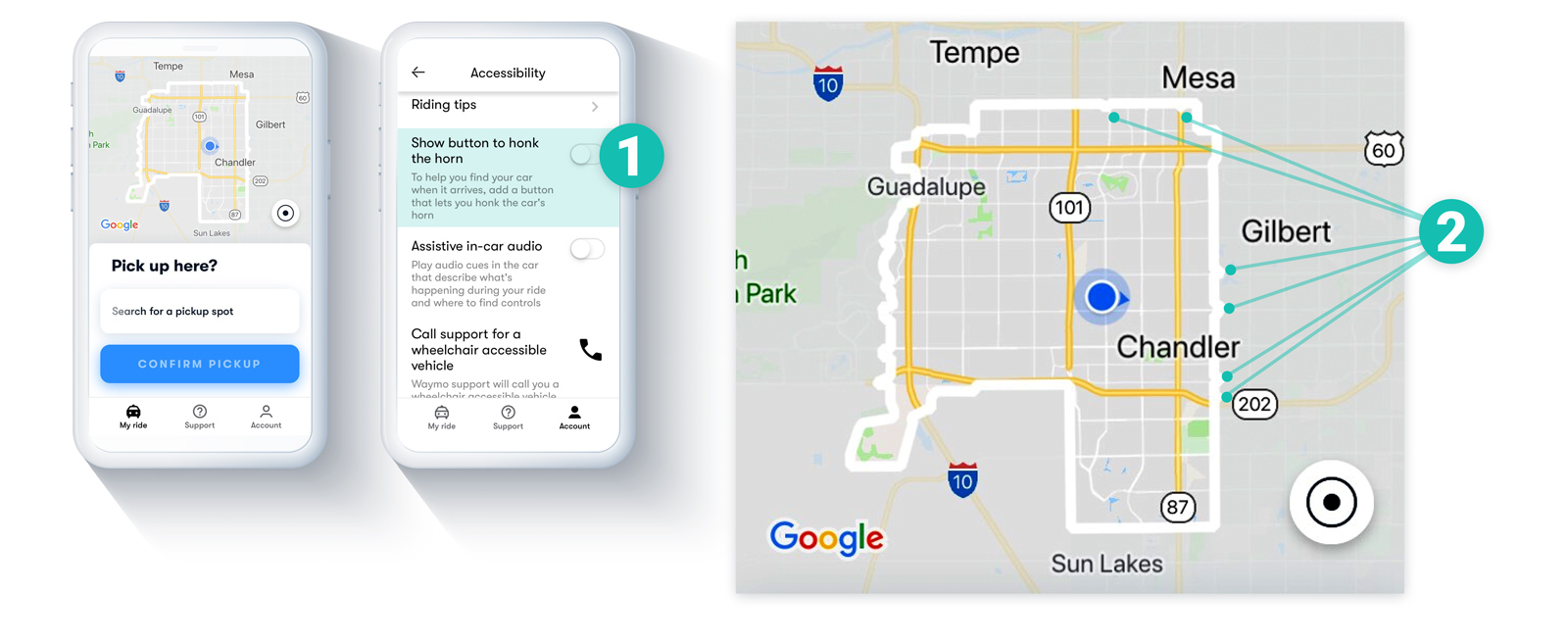 Two things stood out to me;
1 You can remotely honk the horn of a Waymo.
This was previously discussed here as there is a similar feature with Lime Scooters. This can't be a good idea.
2 The map has several bumpy edges. Why is that?
I have plotted the Waymo area on Google Maps. Here it is.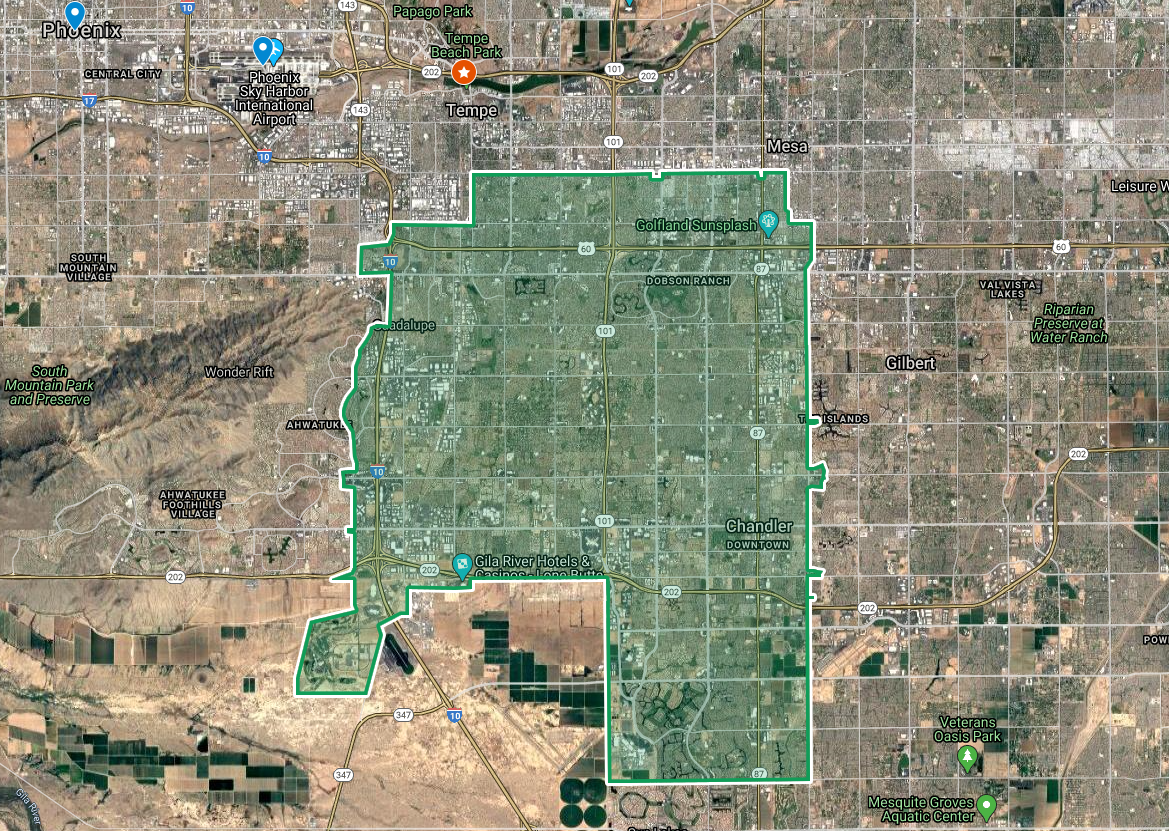 Let's first discuss the area generally. This is quite remarkable for a few reasons.
It is a BIG area at 230 square kilometres. Here is 230km2 overlaid on Brisbane, Sydney, Melbourne, Canberra, Hobart, Perth, Adelaide and Darwin.  So this is not just a few suburban blocks; rather it is effectively an entire city; at least by Australian standards.
Interestingly though, it does not include the nearby international airport, or the Phoenix CBD which would be common origins and destinations for journeys. It is like the area is designed for discretionary community travel; maybe because the travel to the airport or the CBD would feature drop-dead arrival times which may add a level of risk that is best avoided.
Coincidentally, the fatal Uber crash was located just outside of the Waymo area. This is the case that killed Elaine Herzberg in which the car saw the pedestrian 1.3 seconds before impact and determined that emergency braking was required but the system had no mechanism to either alert the driver or to enact the emergency braking of its own accord – previously discussed here.
The area is flat; dead flat. The change in height over this entire area is about 30 to 40m and it is gradual.  Practising hill starts in Chandler would be impossible.  I am not sure if that in any way impacts the autonomous trials; I would like to think not. I suspect it is somewhat coincidental.
The weather is effectively fine all year around.  Only about 35 days a year have any rain with an average of 230mm per year and 297 days per year are at least partially sunny. Compare this "sunny" Brisbane that has 117 days with any rain, a yearly average rainfall of 1006mm and 261 days per year are at least partially sunny. 
I don't know if the autonomous trials are dialled back or entirely postponed during poor weather. There are some videos of Waymos driving through dust storms. It is not known if this was little more than a photo op.  Either way, Waymos have not had much practice driving in the rain but they do operate at night.
It is predominantly a grid network. No roundabouts, some cul-de-sacs and no one-way streets that I could see. No tunnels, bridges, or complex 5-way intersections but there are some railway lines with associated railway crossings. Several major freeways go through the area but it is unknown if the Waymos were allowed on them.
Scroll out a bit. Scroll out some more. And then again. And again. Again. Arizona is a big place. America is even bigger. And the world is huge – at least compared to Chandler. Waymo has LIDAR scanned the Chandler to the millimetre. They effectively know the position of each leaf. If this is a technology precondition, then there is a non-trivial barrier to entry for each new area.
Now onto the mysterious bumps. Some are simple to explain. This area has been explicitly excluded because of the overpass. A car committing to the "S Country Dr" will be going under the overpass and into the "out of bounds area".
But the following exclusion is more perplexing. A Google-led prejudice against Popeyes Louisiana Kitchen perhaps? The Arizona Reptile Center maybe?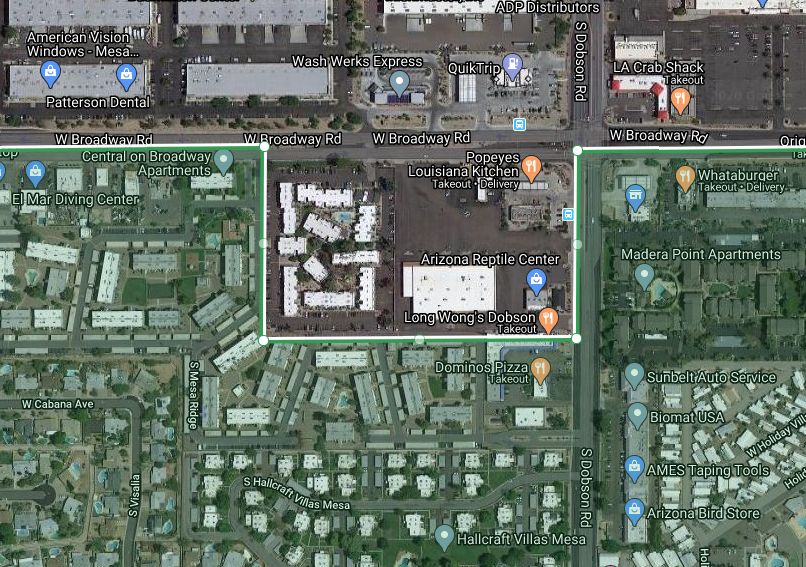 Several of us have looked at this and have come up blank. This is effectively unexplainable. There is nothing different to this streetscape to any other part of the road.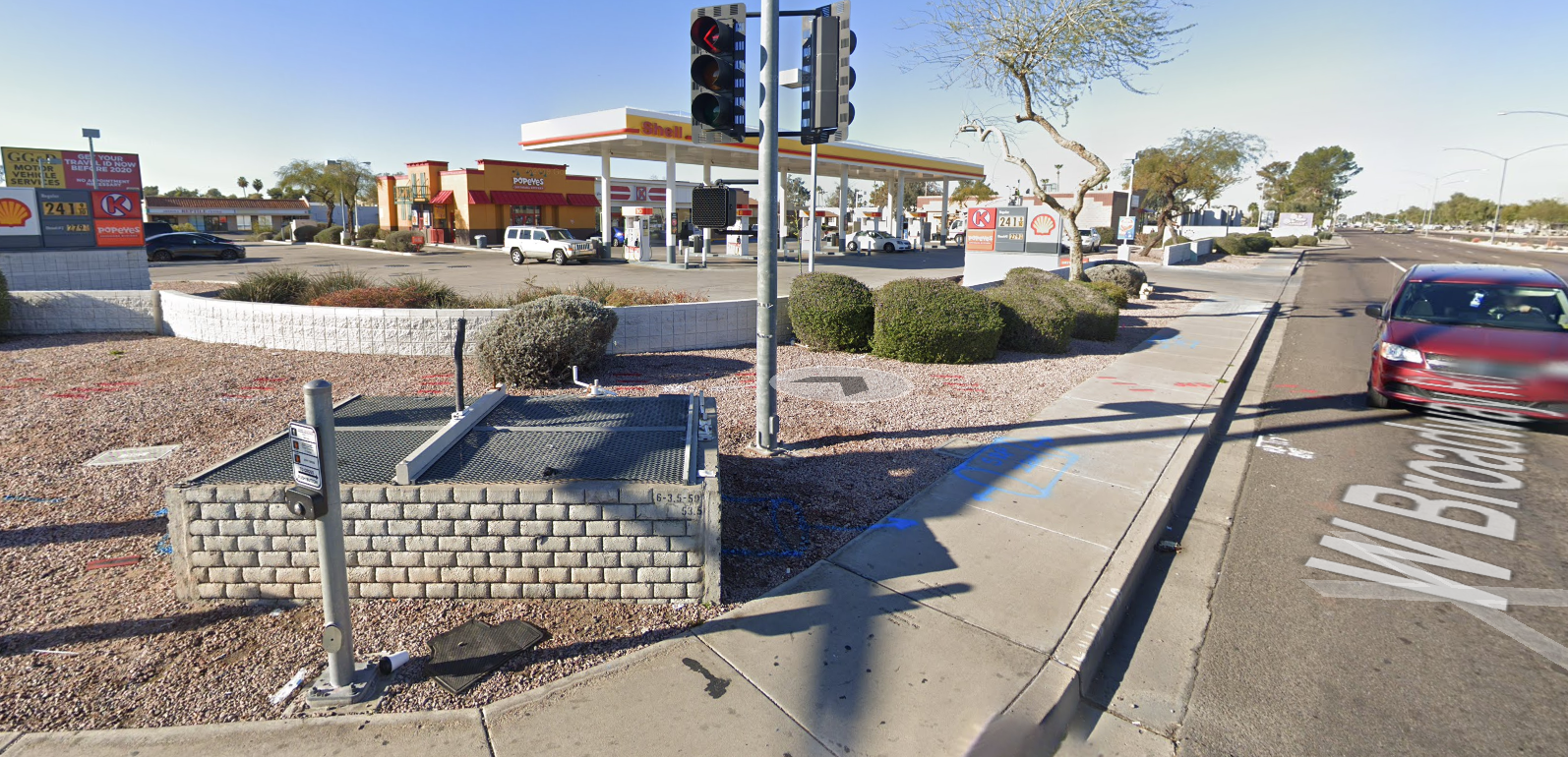 The bumps to the northern part of the area are explicit exclusions but on the eastern side there are explicit inclusions.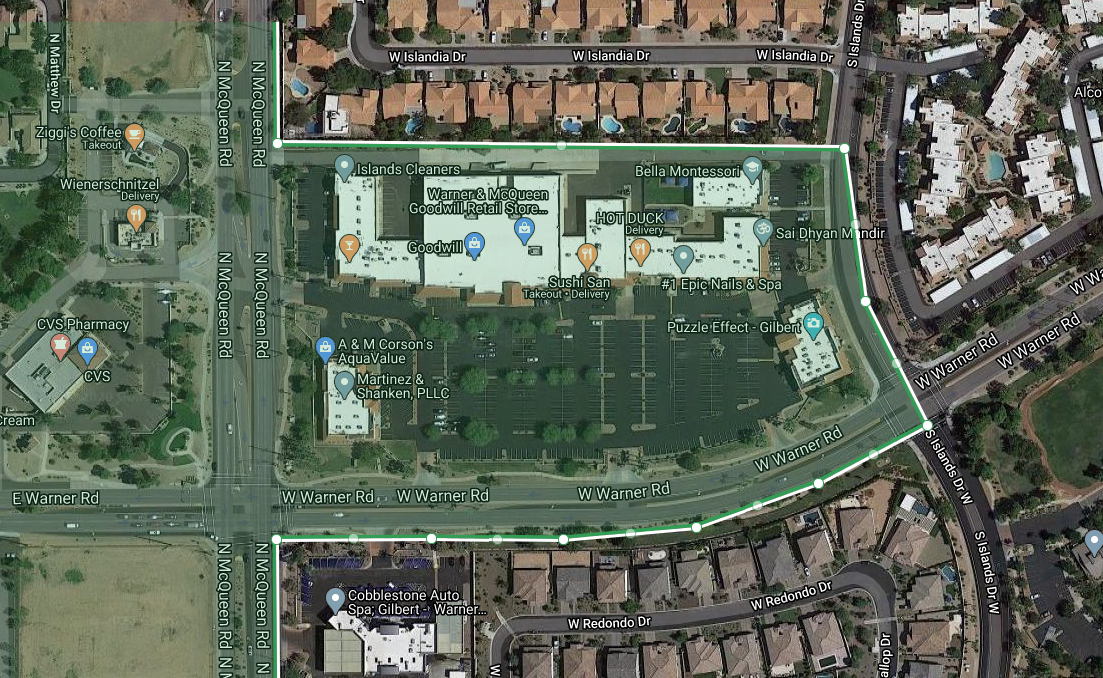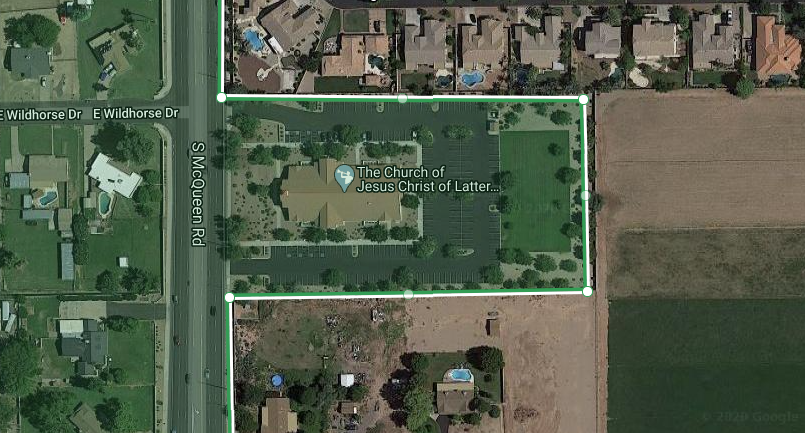 You could argue that these are common destinations; shopping, a church, etc. and should be included.
But they were inconsistent and did not include this area which features a McDonald's.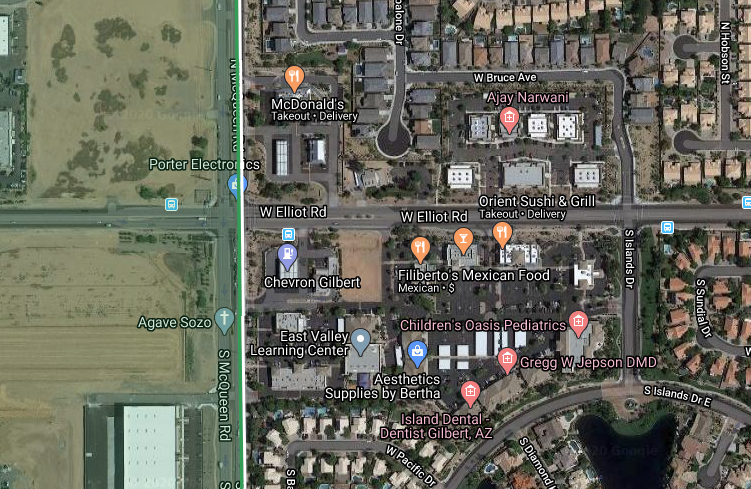 This is very strange. Something smells. It reminds me of the last post where Waymo was having problems with driveways. Are there some driveways there that Waymo should just avoid?


So what does this all mean?  This suggests that:
Waymos may have little experience with rain, snow or fog – but may have had experience with dust storms and driving at night.
Hilly environments may be a problem.
Can only work in areas that have been exhaustively LIDAR scanned
May have little or no real-world experience with tunnels, roundabouts and one-way streets but have a lot of experience with grid networks.
It is not known if they can go on freeways.
There may be a large barrier to entry for any new area.
They have avoided the CBD/Airport area to focus on urban trips.

If even a handful of these are true, how do you think Waymos are going to go in your city?  
I suspect everyone reading this has thought "not very well".
And I think Waymo is thinking the same…
Next post; Waymo has had that moment that all software engineers enjoy. When they realise that their software design is not actually going to solve the problem. I call this the "oh crap moment". Let's see what they do…